Revitalize Your Body: Massage Gun - Electric Percussion Massager for Deep Tissue
sold in last hours
PEOPLE LOOKING FOR THIS PRODUCT
30 Day Money back guarantee
Regular price £48.90 | FLASH SALE (Liquid error (sections/product-template line 259): divided by 0% OFF TODAY )
/
🚚 Free & Fast UK Delivery
📦 Dispatch in 1-3 Days
Indulge in Relaxation: Massage Gun for Deep Tissue Therapy
Elevate Your Recovery with the iconic Massage Gun
Introducing the iconic Massage Gun, your gateway to rejuvenating deep tissue massages from the comfort of your home. This electric percussion massager is designed to deliver targeted relief, promoting muscle recovery and relaxation like never before.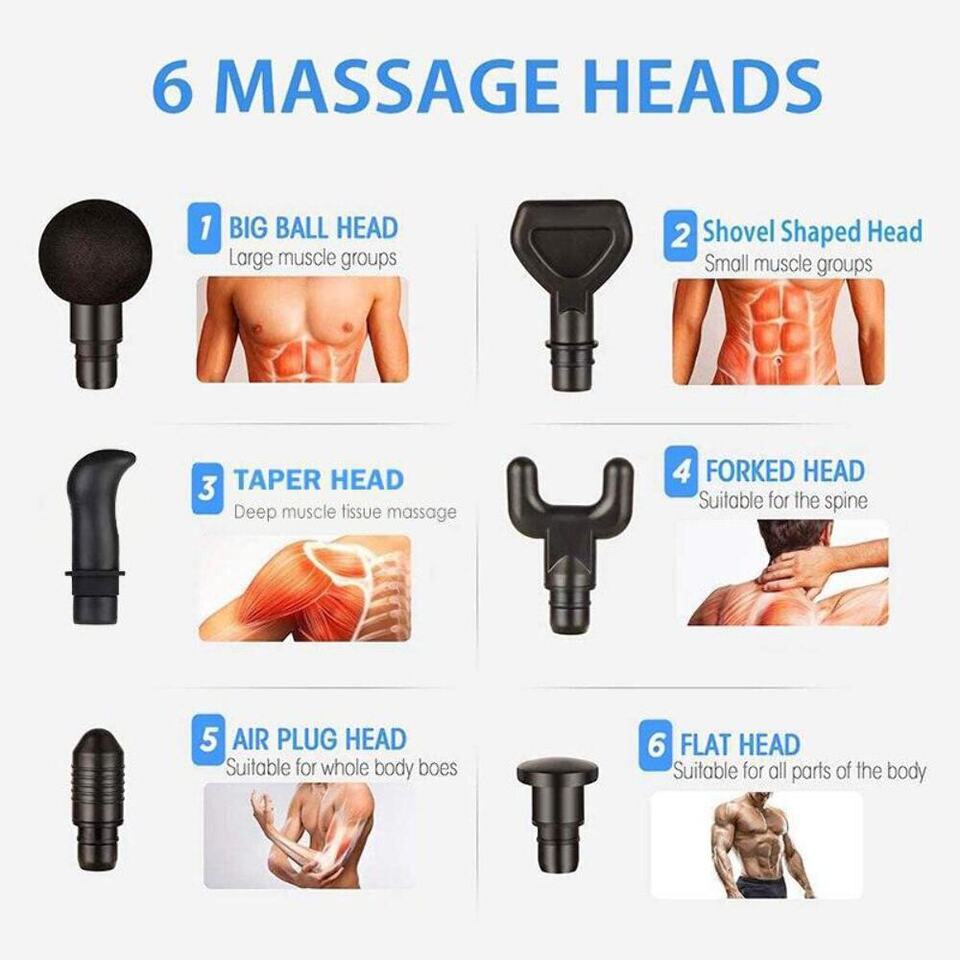 Powerful Percussion Technology: Immerse yourself in the intense yet soothing percussion motions of this massage gun. The powerful motor generates rapid pulses, penetrating deep into your muscles to release tension and knots effectively.

Versatile Attachments for Varied Therapy: Customize your massage experience with the selection of attachments included. From pinpoint precision to broad strokes, the interchangeable heads cater to different muscle groups and massage preferences.

Quiet and Portable Design: Enjoy the benefits of a professional-grade massage without the noise. The Fascial Massage Gun boasts a quiet operation, ensuring a tranquil experience. Its portable design allows you to carry relaxation wherever you go.
Key Features for a Rejuvenating Experience
Explore the features that make the Fascial Massage Gun a must-have for anyone seeking relief and relaxation.
Adjustable Speed Levels: Tailor your massage intensity to your liking with multiple speed settings. Whether you prefer a gentle massage or an invigorating deep tissue experience, the adjustable speeds offer flexibility.

Long Battery Life: The massage gun is equipped with a long-lasting battery, providing extended usage between charges. Rechargeable and convenient, it ensures that relaxation is always within reach.

LCD Touch Screen Display: Effortlessly navigate through settings with the user-friendly LCD touch screen. Monitor your chosen speed level and battery status at a glance for a seamless massage experience.

Ergonomic Design for Comfort: The ergonomic handle and lightweight construction make the Fascial Massage Gun easy to handle. Reach every muscle group with ease and experience unmatched comfort during your massage sessions.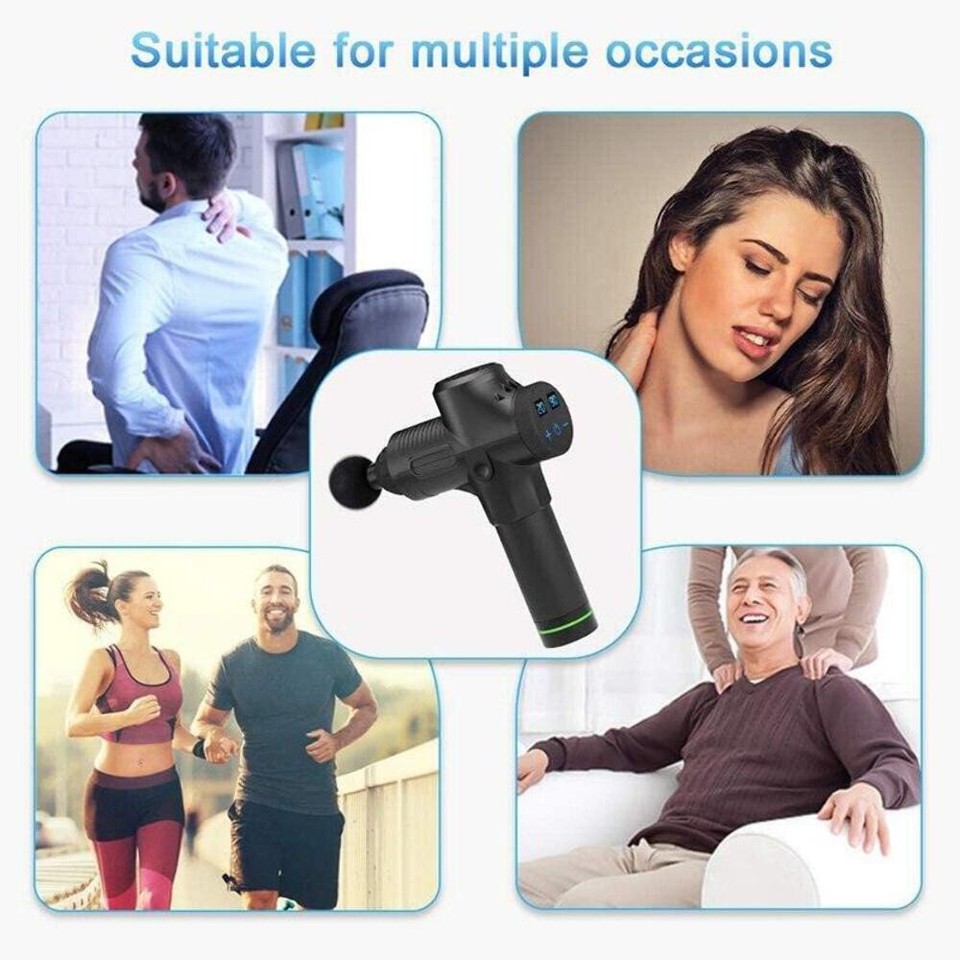 Elevate Your Self-Care Routine
Revitalize your body and embrace the power of deep tissue therapy with the Fascial Massage Gun. Elevate your self-care routine by incorporating this electric percussion massager, designed to bring you the relaxation and relief you deserve.
Ideal for Athletes and Fitness Enthusiasts: Whether you're an athlete, fitness enthusiast, or someone looking to unwind after a long day, the Fascial Massage Gun caters to your recovery needs. Enhance your performance and speed up muscle recovery effortlessly.

Effective Stress Buster: Combat stress and tension with targeted massages that alleviate tight muscles. Incorporate the Fascial Massage Gun into your routine to promote overall well-being and relaxation.

Comprehensive User Manual Included: Maximize the benefits of your massage gun with the detailed user manual provided. Learn about proper usage, attachment selection, and maintenance tips to ensure longevity and optimal performance.
Indulge in the ultimate relaxation experience with our Fascial Massage Gun. This electric percussion massager is designed to target deep tissue, providing relief to your body, neck, and back. Say goodbye to muscle tension and embrace a new level of fitness and well-being.
Key Features and Benefits:
Deep Tissue Massage: Powerful percussion technology delivers a deep tissue massage to release tension and knots, promoting muscle relaxation.

Versatile Body Relief: Ideal for the body, neck, and back, providing comprehensive relief to various muscle groups.

Pain Relief: Effectively alleviates muscle pain and soreness, enhancing your overall well-being.

Electric Percussion: Enjoy the benefits of electric percussion for a soothing and invigorating massage experience.

Customizable Intensity: Adjustable speed levels allow you to customize the intensity of your massage, catering to your unique needs.

Compact and Portable: Lightweight and portable design make it easy to carry for on-the-go relief, whether at home, the gym, or the office.

Fitness Companion: Incorporate this massage gun into your fitness routine for pre-workout warm-ups or post-workout recovery.
Package Includes:
1*Massage Gun

4*Heads:Fork Head,Ball Head,Bullet Head,Flat Head

1*User Manual

1*Tpye-C USB Cable
Revitalize your body and embrace a pain-free lifestyle with the Fascial Massage Gun – your key to deep tissue muscle relaxation and overall well-being.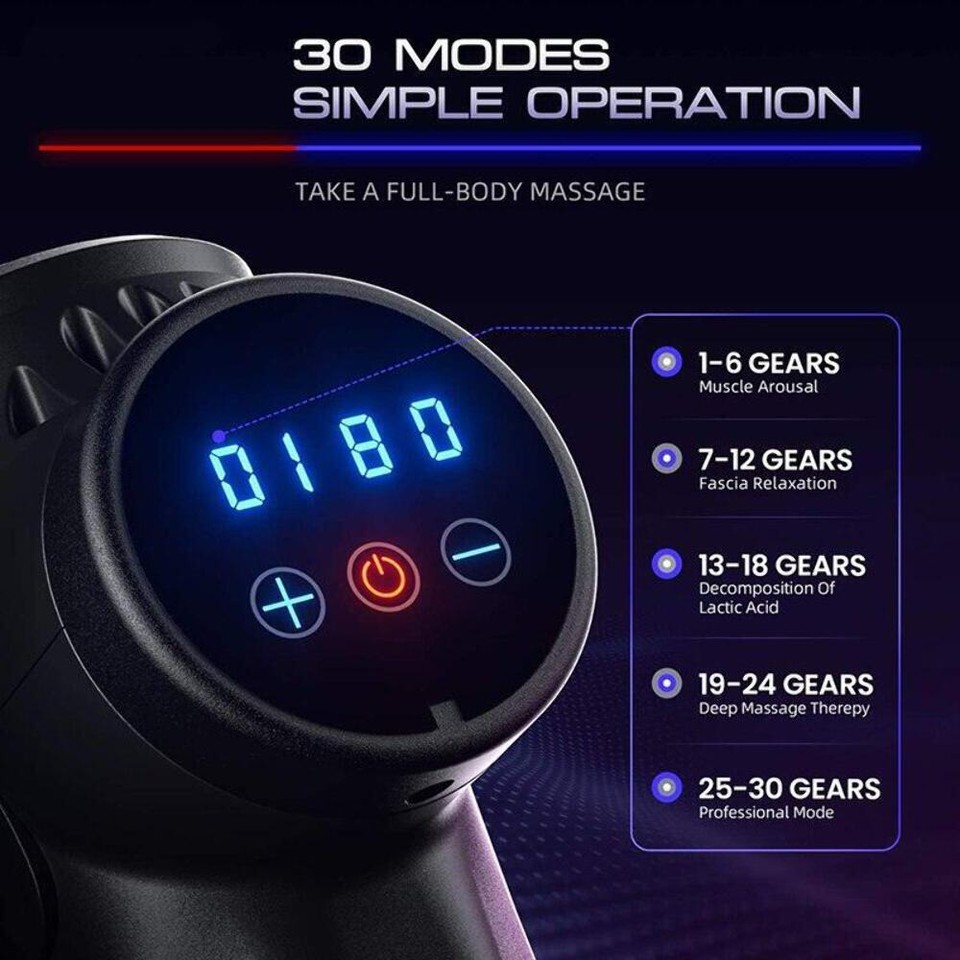 REVIEWS
Life saver at great price
I'm a bit older and play pickleball which I am always sore from I bought this massage gun a few months ago and totally love it it helps losen up my muscles and keeps me from cramped muscles and cuts back on how sore I am the next day. Great product I highly recommend
Durability
I Like the ease of use and all the different attachments
Quality
I had tried a friend's massager and wanted to get one but so many different ones were more than I wanted to pay, but I was concerned that a lower end priced one would not have the best quality. After reading other reviews I decided to try this one. I'm glad I did! It looks good, feels like it's well made and works great! It's quiet, has more than enough speeds in my opinion, and battery life has been great so far too. The unit does have some weight to it, but it's solid and well built. I gave it 5 stars. I'm very happy with this unit!
Pretty good for the price
Strong. I like the amount of pieces it comes with for the price specially compared to others. Over all happy with this item, and would definitely recommend.
Revitalize Your Body: Massage Gun - Electric Percussion Massager for Deep Tissue